Boyd Maurice Woodard, M.D.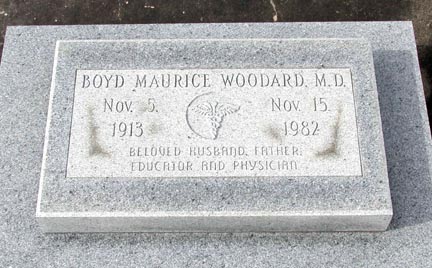 | | |
| --- | --- |
| Born: | November 5, 1913 in Hall Summit, Louisiana |
| Died: | November 15, 1982 in Lake Charles, Louisiana |
| Buried: | November 17, 1982 in Goos Cemetery, Lake Charles, Louisiana (Map 10) |
| | |
| Father: | Joel Ernest Woodard |
| Mother: | Beulah Mae Horton |
| | |
| First Wife: | Elizabeth Barbara Fitzenreiter |
| | |
| Married: | August 1, 1941in First Methodist Church, Lake Charles, Louisiana |
| Ended | October 17, 1976 in Lake Charles, Louisiana (death of wife) |
| | |
| Children: | Charles Boyd Woodard, M.D. |
| | Baby boy Woodard |
| | James Francis Woodard, M.D. |
| | Elizabeth Barbara Woodard |
| | |
| Second Wife: | Myrtle Eileen Jordan |
| | |
| Married: | 1977 |
| | |
| | |
Lake Charles American Press, November 16, 1982, p. 1:
Woodard services scheduled today
Funeral services for Dr. Boyd Maurice Woodard, 69, of 511 W. Sale Road, will be at 2 p.m. today, Nov. 16, in the North Chapel at Hixson Funeral Home.
Dr. Carl Lueg will officiate. Burial will be in Goos Cemetery.
Dr. Woodard died at 1:35 a.m. Monday in a local hospital.
A native of Hall Summit, he began his medical practice in Lake Charles in 1951.
Dr. Woodard received an Honorary Law Degree from McNeese State University in 1978.
He was a graduate of Louisiana State Normal Teachers College, received his M.S. degree from the University of Arkansas, his M.D. from the L.S.U. School of Medicine in New Orleans, and interned at Confederate Memorial Hospital in Shreveport.
Dr. Woodard had served as president of the Louisiana Academy of Family Practice, and was a Fellow of the American Academy of Family Practice. He was a member of the American Medical Association, the Louisiana State Medical Society, Calcasieu Parish Medical Society, and had served as the team physician at McNeese State University for many years.
Before entering the field of medicine, he had been football coach at LaGrange, and coach and principal at West Lake. He had served on the Louisiana State Board of Education for 16 years, twice as its president.
He was also a member of Masonic Lodge Calcasieu 400 and of the Habibi Shrine Temple.
During World War II, he had served in the U.S. Navy.
Survivors include his wife, Mrs. Eileen Woodard; one daughter, Elizabeth B. Woodard of Houston; two sons, Dr. Charles B. Woodard of Lake Charles and Dr. James F. Woodard of Baton Rouge; three stepdaughters, Mrs. Norma Riddle and Mrs. Donna Reed, both of Lake Charles, and Mrs. Suzanne Nelson of Orange; one brother, Harold M. Woodard of Lake Charles; two sisters, Mrs. Helen W. Prudhomme of Memphis, Tenn. and Mrs. Ernestine Richard of Lake Charles, and four step grandchildren.
If friends wish, memorial donations may be made to the McNeese Foundation Scholarship Fund, the family said.
Pallbearers will be Wayne Cusic, William J. Dodd, Montie Hall, Dr. Thomas Leary, Dr. Robert C. Looney and Dr. Charles T. White.