Bessie Gertrude Davis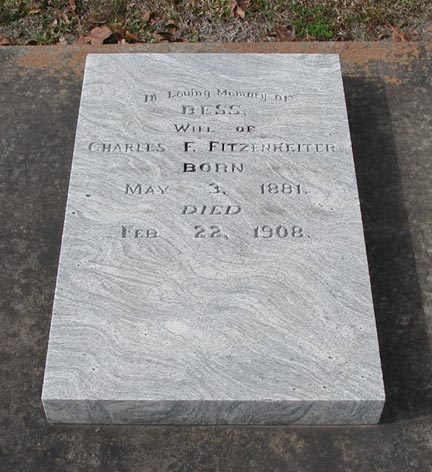 Lake Charles Daily American, February 22, 1908, p. 1:
CALLED IN EARLY LIFE
-----
Sad Death of Mrs. Charles Fitzenreiter Last Night.
After a brief illness, Bessie, wife of Charles Fitzenreiter, died last night at the family home on Ford street.
Mrs. Fitzenreiter was the daughter of Mr. and Mrs. W. O. Hemphill, now of Siloam Springs, Ark. She was a native of Monticello, Ill., but has been a resident of Lake Charles since her early youth and completed her education in the city schools. Her sweet, lovable disposition and kindness of heart endeared her to all with whom she came in contact, and her death, occurring under peculiarly saddening circumstances, will be deeply regretted by her numerous friends.
Mrs. Fitzenreiter leaves a husband and an infant son, in addition to her parents, and her brothers and sisters, none of whom are now residents of Lake Charles.

Lake Charles Weekly Press, February 28, 1908:
MRS. FITZENREITER DEAD
-----
LIFE OF YOUNG WOMAN ENDED SUDDENLY THIS MORNING.
-----
Mrs. Bessie Fitzenreiter, wife of Charles Fitzenreiter, died at her home on Ford street at 7 o'clock Saturday morning. She was sick only a few hours.
The death of Mrs. Fitzenreiter is one of the most sorrowful events that has transpired Lake Charles in many years. Born and reared in this city, she was known and loved by everyone and may be said to have been an associate with the people of the city all her life. The suddenness of her taking off, and the sad circumstances attending it add an element of tragedy that causes a pang of sorrow in every heart. Living in happy anticipation of approaching motherhood, with all the joys of life spread happily before her, she was stricken in the moment of supremest joy and left her tiny infant motherless to face the world.
The deceased was twenty-six years of age at the time of her death. As stated above she was born, raised and educated in Lake Charles and as Bessie Hemphill was known during her early childhood and during her girlhood to nearly everyone. Her young womanhood life fulfilled all the anticipations raised by her beautiful girlhood life and Bessie Hemphill was known as one of the most lovely and charming of Lake Charles fair young ladies.
Bessie Hemphill was married to Charles Fitzenreiter seven years ago. Since then her life has been a happy one, a happiness she only too well deserved. During the few brief years of her married life, she became identified with the larger sphere of life in which woman is called to act and was prominent in social functions, in church work and in many charitable movements that had their object the relief of those in distress.