Annie Goos Funk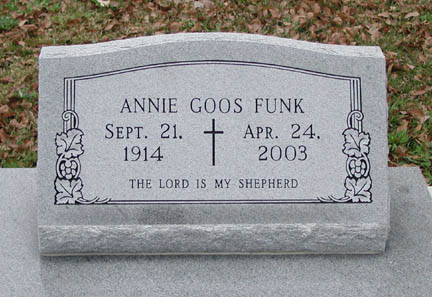 | | |
| --- | --- |
| Born: | September 21, 1914 in Lake Charles, Louisiana |
| Died: | April 24, 2003 in Lake Charles, Louisiana |
| Buried: | April 26, 2003 in Goos Cemetery, Lake Charles, Louisiana (Map 14) |
| | |
| Father: | Albert Goos Funk, Sr. |
| Mother: | Marie Ella Bonsall |
| | |
| | |
| | |
Lake Charles American Press, Friday, April 25, 2003, p. A2:
Annie G. Funk
Annie Goos Funk, 88, of Lake Charles died at 3:25 a.m. Thursday, April 24, 2003, in her residence.
Ms. Funk was a native and life resident of Lake Charles. She was a graduate of St. Charles Academy and a 1934 graduate of Lake Charles High School. Ms. Funk was a member of the championship basketball team at Lake Charles High School and later coached championship basketball teams at St. Charles Academy. She worked for Allen's Drug Store for several years and later opened, with her mother and sisters, Funk's Florist where she was co-owner for more than 55 years. She was a member of the Louisiana Wholesale Florist Co-op. Ms. Funk was a member of Immaculate Conception Cathedral Catholic Church. Ms. Funk was a descendant of Captain and Mrs. Daniel Goos and Albert and Marie Bonsall Funk, early pioneer residents of Lake Charles.
Survivors include three sisters, Oma Funk, Della Vick, and Marie DeRouen, all of Lake Charles. She is also survived by numerous nieces and nephews.
Funeral services will be at 10 a.m. Saturday, April 26, 2003, from the Cathedral of the Immaculate Conception. Monsignor Jace Eskind will officiate. Burial will be in Goos Cemetery under the direction of Johnson Funeral Home. Visitation is 3-9 p.m. today, with a rosary at 5:30 p.m., and 8-9:30 a.m. Saturday in the funeral home.