Click Area on Map to Enlarge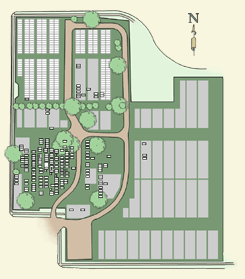 Located in Goosport near the site of the home and lumber mill of Captain Daniel Johannes Goos (pronounced like goss) and his wife, Katherine Barbara Moeling Goos, the Goos Cemetery was established for their descendants. Around the turn of the twentieth century, it was endowed by one of their daughters and her husband, Captain George and Ellen Goos Lock, and is maintained by the Goosport Graveyard Endowment Corporation. The earliest graves date from the 1870s. In 1987, it was designated a historic landmark by the Calcasieu Preservation Society.
Capt. Goos was born in 1815 on the Isle of Föhr, one of the Friesian Islands in the North Sea. In 1835 he emigrated through Philadelphia and settled in New Orleans. There he met Katarina Barbara Moeling, who had come in 1840 with her family from Neustadt an der Weinstraße, Germany. They were married in 1846 and soon moved to the Mississippi Gulf Coast where he engaged in the mercantile business.
In 1855 they moved to Lake Charles, where he established his sawmill and shipping business, building schooners to transport his lumber to Galveston. These were to be used to run the Union Blockade during the Civil War. However, after the Battle of Calcasieu Pass, the injured, both Southern and Northern, were taken to his home and nursed to recovery. He was instrumental in other German immigrants coming to Lake Charles to work in his mill. In Lake Charles, he was a founder of the Lutheran Church and the Masonic Lodge. North Lake Charles became known as Goosport, and many streets bear the names of his family: Moeling, Katherine, Madora, Fitzenreiter Road, and Goos Boulevard.
Goos Cemetery is located in north Lake Charles. From Broad Street (old U. S. Highway 90), go north on Shattuck Street 1.4 miles until it curves around the cemetery.
In 2003, the Endowment purchased a tract of property on Joe Miller Road in Moss Bluff, Louisiana. Goos Cemetery – Moss Bluff has been developed, and the first burial there was on January 25, 2011. Joe Miller Road intersects with U.S. Highway 171 in northern Moss Bluff.